I've decided to just make one big add for everything I have to trade or sale. Putting pics up when I can, if I dont have a picture up please just respond with an email and I can easily send. Most of the cash prices are OBO.
100rds total of match grade .308 in factory boxes. 60rds are PMC 168gr and 40rds are Federal 168gr. -$120
8 used Colt USGI AR 30rd mags all work great. $13 Each or $100 for all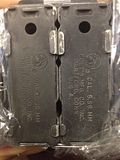 16 used Okay brand USGI AR 30rd mags all work great. $11 each or $170 for all
5 new out of package Tapco AK 30rd mags in black $10 each $45 for all
Like new ATI Strike Force stock set for a AK in black. $100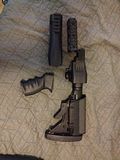 Tasco 3-12x40 rifle scope comes with rail mount. $75
Diamondback battlelabs Plate carrier in Tan size Med. $150
Trade interests:
Ruger 10/22
Moss 500/590/930 or Rem 870
Rifles in 308 or 223
7.62x39 ammo
9mm ammo
.223/5.56 ammo
Beretta M9/92 mags
M&P 9 17rd mags
AK gear
Tan plate carrier size large
AK drum
"tactical" gear
quality knives and tomahawks (zombies are coming)
or...