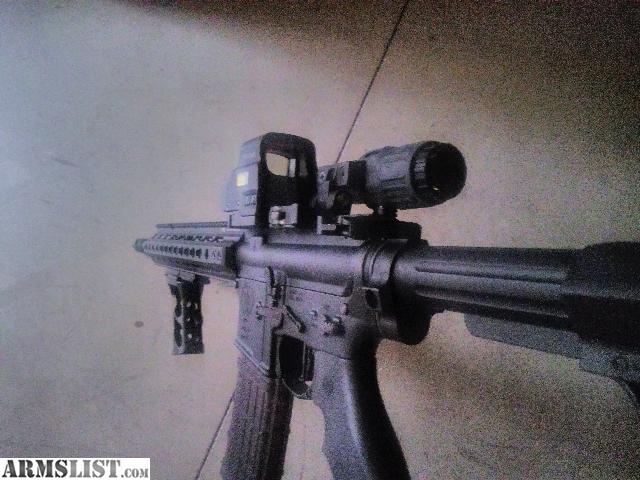 Bought this awesome setup at West Coast Armory for $1100 about one month ago. Really works great...easy to zero, quick releases are so efficient, and the way the magnifier flips out of the way is such a great feature. Mounting medical bills force sale or I would never let this go.
From the eotech site....
The Holographic Hybrid Sight II (HHS II) has an EXPS2-2 with a G33.STS magnifier. Regardless of the scenario, it provides an unparalleled advantage when transitioning from short-range to long-range shooting. The quick switch-to-side (STS) mount offers a simple, instant disengagement of the magnifier. The HHS II combination is the perfect setup for hunting when your target is on the move.
Length/Width/Height:
7.6" x 2.2" x 2.8" (193 x 55 x 71 mm)
Weight:
21.7 oz (616 g)
Operating Temperature:
-40 °F to 160 °F (-40 °C to 60 °C)
Waterproof:
Submersible to 10 ft (3 m) depth
Mount:
MIL-STD-1913 rail
1" Weaver
Return to Zero:
Repeatable to within 1 MOA after re-mounting
Brightness:
20 brightness settings
Power Source:
One 123 lithium battery
Battery Life:
Approximately 600 hours
G33.STS is Compatible with all EOTech Holographic Weapon Sights
Length:
3.9"
Weight:
11.9 oz (372 g)
Waterproof:
Submersible to 33 ft (10 m) depth
Mount:
MIL-STD-1913 rail
1" Weaver
Fixed Magnification:
3X
Eye Relief:
2.2" (55.8 mm)
Field of View:
7.3°
Sealing:
Fogproof internal optics
Operating Temperature:
-40 °F to 160 °F (-40 °F to 70 °C